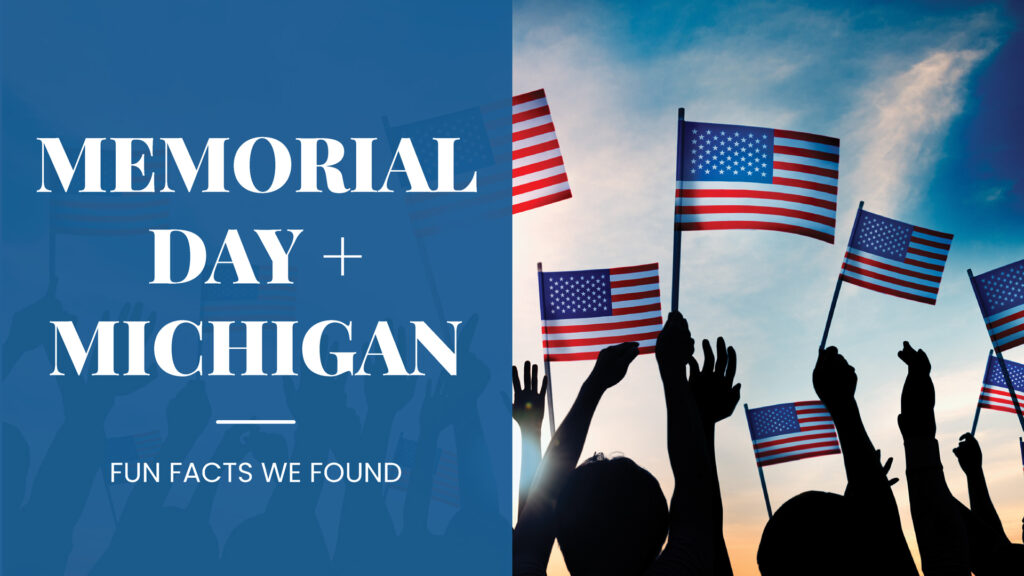 MEMORIAL DAY + MICHIGAN
Another month has come and gone, we are now looking forward to days of sunshine, warm boating weather, traveling with families and celebrating Memorial day.
Did you know according to Extension/MSU: Memorial Day was first celebrated as Decoration Day on May 30, 1868, and had grown out of a custom of an annual spring or summer "decoration day" for particular cemeteries, primarily in the rural American south. Michigan was the first state to make Decoration Day a holiday in 1871, and by 1890, every northern state had followed suit.
The preferred name for the holiday gradually changed from Decoration Day to Memorial Day after World War II and was not officially declared the name under federal law until 1967. Memorial Day was celebrated on May 30 until 1968, when Congress passed the Uniform Monday Holiday Act, which moved four holidays, Memorial Day, Labor Day, Columbus Day and Veterans Day, to Mondays in order to provide for three-day weekends for federal employees.
To a lot of Michiganders, Memorial Day is the unofficial quick-off to summer.
Did you know that in the great state of Michigan there are over 1000 campgrounds?  Talk about adventure, with a wide range of beautiful picturesque scenery from Northern Michigan to Southbend.  Most campgrounds are accommodating for pets and full RV hookup services.  (Pure Michigan)
Starting just this year Lynden Sports Center has introduced its newest division of RV sales.  Offering family owned and operated brands you can count on like Gulf Stream and Nexus RV.  Not only do we offer a boat for every passion, now we offer RVs, travel trailers and motorhomes!
The top Memorial Day getaway,  Mackinac Island. This tiny island comes to life at the end of May as the summer season gets into full swing, so it's a good idea to book your vacation rentals well in advance. Spend your weekend making the most of the car-free island: take a horse-drawn carriage ride through downtown, explore Fort Mackinac, and hike the trail system to Arch Rock. Be sure to bring your camera to capture the brightly colored American flags that flutter from every historic home. (Tripping)
Looking for a getaway with a bit more beach, try out Grand Haven.  Welcome summer with a Memorial Day escape to beautiful Grand Haven. Head straight for Grand Haven State Park, where a pristine white-sand beach provides plenty of space for volleyball, relaxing, and swimming; by the end of May, temperatures are usually warm enough to spend a comfortable day by the water. If the winds are high, head to the Grand Haven south pier to try surfing. On Monday, the whole town turns out to watch the city's traditional Memorial Day parade, featuring local high school bands and color guards. (Tripping)
Did you know After World War I Poppies became a symbol to memorialize the fallen?  The tradition was inspired by the poem "In Flanders Fields," written by Lt. Col. John McCrae, who was moved by the sight of wild poppies growing on soldiers' graves in Europe. Today, the tradition continues through the sale of poppies to benefit military members, veterans and their families. (Michigan.gov)
Have you heard of Blessing of the Boats?  This is taking place in the Muskegon Channel, put on by Aquastar Cruises .  Join them as they marshal boats up the Muskegon Channel towards Lake Michigan to the South Breakwater Cove. They will enjoy the ceremonial Lighthouse washing representing the start of the boating season. Boaters will then cruise by the Aquastar for the official blessing. What better way to start off the summer, May 30th, 2021 at 12:30pm.
Lynden Sports Center has the largest boat show room in the state of Michigan. We strive to carry brands that have been tested on the market for at least 50 years and have been proven successful. We carry a boat for every passion!